Adrian is included in KROQ's "Greatest Rock Drummer Of All Time" poll!  They wrote:
"They're literally the heartbeat of their bands, providing the rhythm that powers the music of bands from all genres. From the legendary stomp of late Led Zeppelin bash-master John Bonham to the intricate complexities displayed by Rush's Neil Peart to the hip-hop-influenced punk beats of Travis Barker, the list of legendarily talented rock drummers is as varied as it is vast.
In a musical world where DJs, drum machines and computer-generated beats continue to encroach on the realm of actual drummers, these trap-masters and their bands keep it real with flesh and blood rhythms."
"Adrian Young (No Doubt) Notorious for his wild style and propensity to rock out with his, um, naked, Young is also famous for his metronomic sense of rhythm, snagging him lots of session work on the side."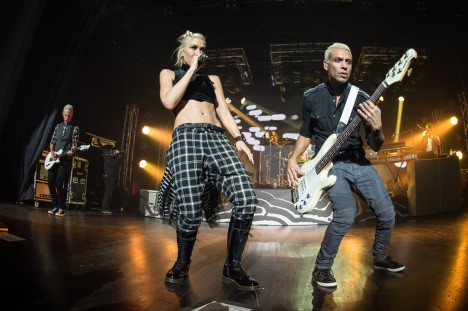 No Doubt played their first show of the Push And Shove era in Paris last night!!  
EIT has compiled a list of YouTube videos people have uploaded from the show here.
The Huffington Post reviewed the show:
"I want to see every person here jumping with me tonight," superstar Gwen Stefani shouted out at her first No Doubt show in three years.
And the fans who'd crammed into the La Maison de la Mutalite in Paris on Tuesday night for the exclusive private showcase were more than happy to oblige.
The legendary California ska-punk group, who've sold more than 22 million albums and picked up four Grammys, have at last reformed after going their separate ways in 2004.
Since then, Stefani has released two solo albums, becoming a massive star in her own right. But on Tuesday evening, it was clear she was happy to be back with her guys, as she jumped around the stage in her trademark high-energy, tomboyish way.
Stylistically speaking, the band have evidently picked up where they left off, and Stefani has long eschewed her Harajuku doll-inspired costumes in favour of her ska getup and red lipstick.
Dressed in knee-high black boots, tartan trousers draped with chains and a high-necked velvet crop top, which showed her very impressive athlete's stomach, Stefani was mesmerising.
It's been said before, but it really is shocking how Stefani can be 43 and have had two children – her body is better than that of any twenty-somethings I know.
Kicking off with 'Sunday Morning', a song from their 1995 third album 'Tragic Kingdom', they moved effortlessly through their impressive back catalogue, throwing in a few tracks from their new record 'Push and Shove'.
It took no time at all for the three peroxide-loving front members of No Doubt to get everyone in the packed out venue dancing as they moved onto party staple 'Hella Good', from their last album 2001's 'Rock Steady'.
And the crowd sang back at Stefani as No Doubt broke into their reggae-inspired hit 'Underneath It All', followed by the energetic and defiant anthem 'It's My Life' and 'Hey Baby', which featured some obligatory booty shaking from Stefani.
"Anyone buy the new record?" she chirped before grinding to their sunny dance jam and first new single in over a decade, 'Settle Down'.
Then it was time for the track everyone at the concert had really been waiting for.
Camera phones were raised, alongside the more traditional lighters, as No Doubt performed their 1996 number one smash hit 'Don't Speak'. Not a single person didn't know the words or didn't look like they hadn't wailed them hundreds of times before in their bedroom.
It was like a teenage dream coming to life and as I looked around at everyone yelling "don't tell me cause it hurts" it seemed like everyone felt just as lucky as I did to be there at that moment. The song still sounds as good now as it did back then, something which I fear won't be said for the likes of 'Gangnam Style'.
It was quickly back to jumping around as the band burst into their first commercially successful song 'Just a Girl', after which Stefani brought a fan on stage to meet the band. Despite her Hollywood status, Stefani seemed completely at home interacting with her audience in this intimate gig, comparable to those times before No Doubt sold out stadiums across the world.
The frontlady, guitarist and keyboardist Tom Dumont, bassist and keyboardist Tony Kanal and drummer Adrian Young, supported by trumpeter Stephen Bradley and trombonist Gabrial McNair who've been with the band for live performances since the mid-1990s, put on a fantastic show, which was organised to celebrate the launch of HP Connected Music.
The product (a launcher embedded on Windows 8 HP PCs) is in partnership with Universal Music and will give users access to exclusive music showcases, meet and greets with artists and VIP trips as well as streaming access to Universal Music's entire catalogue, which includes artists ranging from the likes of Rihanna and Lady Gaga to The Beatles and Marvin Gaye.
As I left the concert I was handed a copy of No Doubt's new album 'Push and Shove'. While I don't think they'll yet produced a hit that will match 'Don't Speak' and all the nineties memories it evokes, they've certainly proved they've still got a lot to offer."
They have a slideshow of photos here.  I've added those, plus a few more to the gallery here.
Nylon magazine shared an awesome video interview from the band's cover shoot! :